Documents uncovered from Freedom of Information Act requests have shown an unnerving relationship between the FBI and Big Oil to crush environmental protests against the Keystone XL Pipeline.
Claire Bernish
May 13, 2015
(ANTIMEDIA) In the ongoing fight to quash dissent, the FBI disregarded its own rules in order to spy on activists opposed to the Keystone XL Pipeline. Labeling the non-violent group "environmental extremists" in order to cultivate informants and keep dossiers on individuals, the FBI did all of this without seeking the appropriate approval to do so.
The FBI ignored protocol meant to prevent intrusion into areas of political controversy, precisely characterized by the ongoing dispute between environmentalists and the oil industry over TransCanada's proposal to transport thick tar sands oil from Canada South to the Texas coast for export. Documents procured by The Guardian and Earth Island Journal through an FOIA request, show the FBI began targeting anti-KXL activists beginning in November 2012. They coordinated police intelligence and shared information to identify activists who took pictures of pipeline infrastructure then used the information to monitor planning and organization of protests — and even managed to plant an informant in the process.
Of particular interest to the agency, first appearing by name in documentation beginning in 2012 when focus centered on the pipeline's East Houston terminus, was the Tar Sands Blockade environmental group. The blockade advocates direct action and calls for pipeline operators to adhere to regulations and answer to residents whose property hold KXL infrastructure. A strategy meeting between TransCanada, who owns the pipeline, and the FBI took place the same year.
One document from January 2013 reads like propaganda from the oil industry, calling activists "environmental extremists" whose "perceived" fear of environmental damage from KXL makes them willing to initiate "criminal actions" by inflicting damage on "infrastructure, individuals, and businesses associated with the oil and natural gas industry."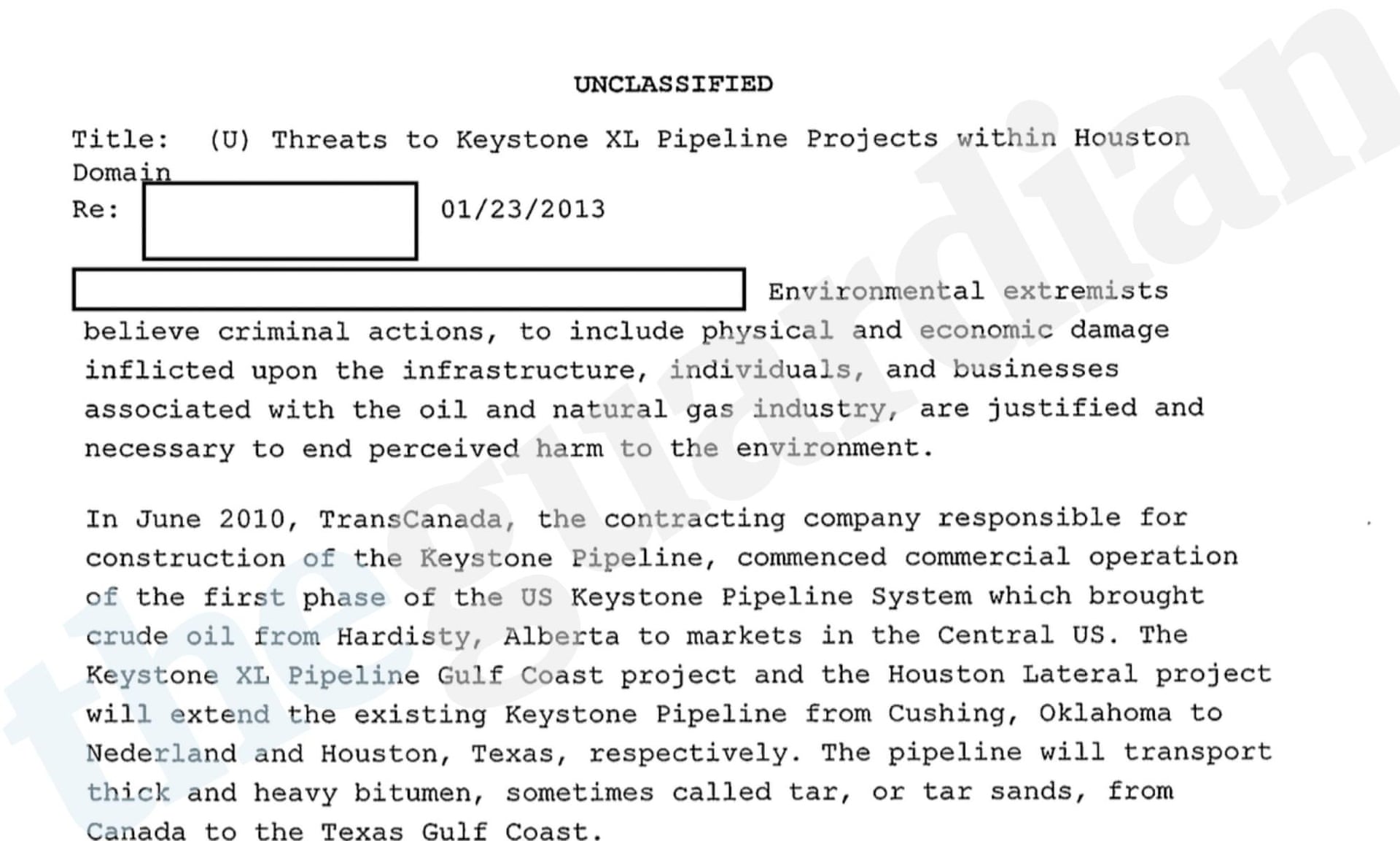 This appears to be the justification for the unauthorized set-up of an FBI base of investigation, the Houston Division, which fixated on Tar Sands Blockade activists as an "emerging threat" to TransCanada's pipeline plans. Per the attorney general's rule, approval should have been sought from both the top lawyer and senior Houston field office agent for such "hot button" issues.
According to the Domestic Investigations and Operations Guide, which outlines the rules for "sensitive investigative matters," such as those involving elected officials, journalists, or political issues groups, prior approval is required of both the chief division counsel (CDC) and special agent in charge (SAC). These officials are supposed to weigh the consequences of "adverse impact on civil liberties and public confidence" should such an investigation be discovered by the public. None of the evidence suggests an attempt was made to contact either official pursuant to this sensitive investigation.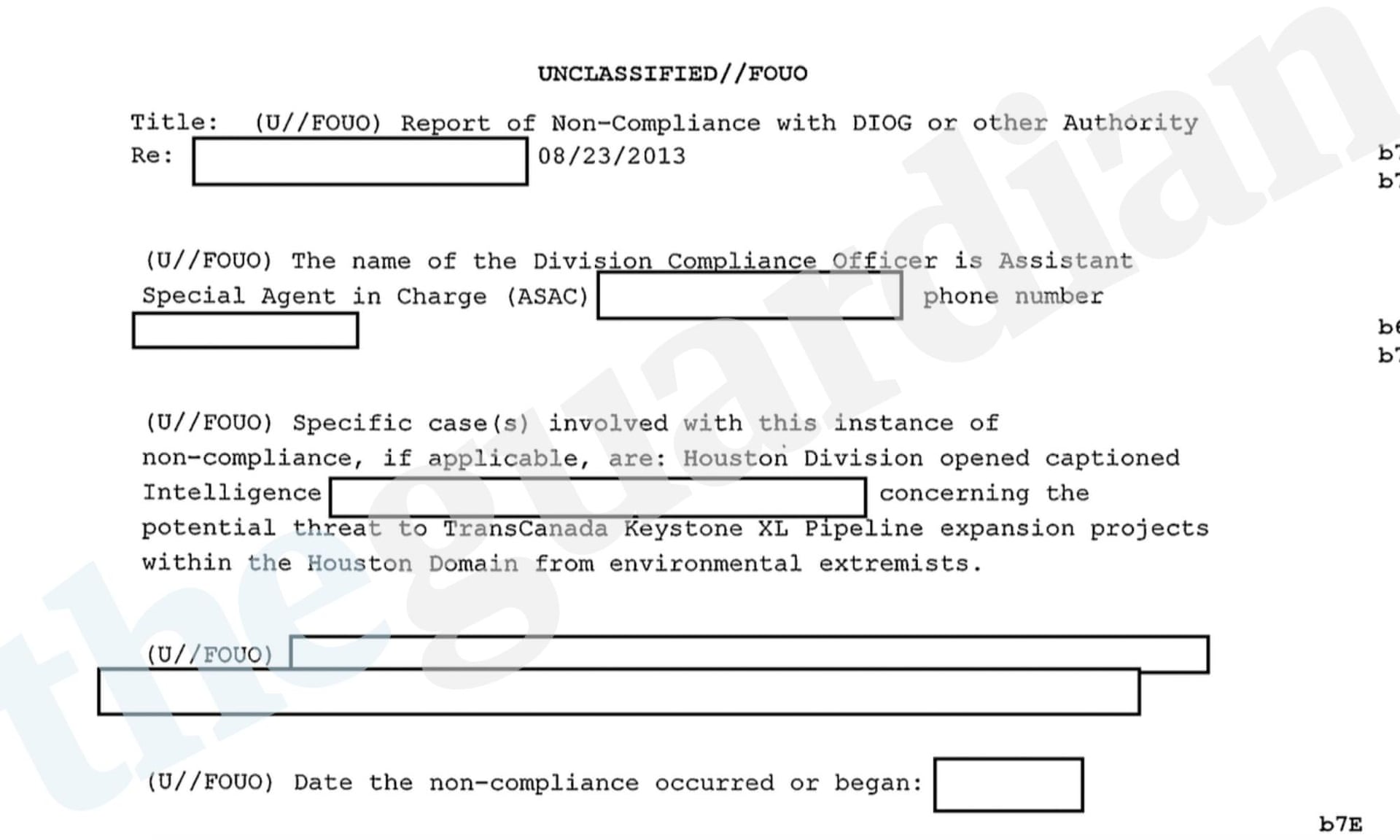 Alarmingly, though a statement of "non-compliance" is clearly documented on August 23, 2013, the FBI continued its invasive surveillance, unhindered yet undefined, for almost a year afterward, even though the agency claims to have "remedied" this breach in proper protocol.
Another item of particular contention, is the agency's choice to brand the activists a "threat", since records show their commitment to acts of peaceful civil disobedience, with such minor transgressions as "trespass" among them. In other words, nothing noteworthy, even though an ambiguous connection in the documents links the anti-KXL activists and unnamed "domestic terrorism issues" and involves the local FBI "assistant weapons of mass destruction coordinator."
Even more remarkable is the FBI's willingness to function as an apparent insider for corporate interests, at one point vowing to share "any pertinent intelligence regarding any threats" it perceived about planned protests. Immediately, this smacks of the same alliance used to crush the Occupy Wall Street movement, which also employed police intelligence, FBI surveillance, the use of informants and identification of activists, to both monitor activities and pass information to private sector interests in advance of planned protest.
Mike German, a former FBI agent who consulted with The Guardian for its article, expressed concern, saying, "It is clearly troubling that these documents suggest the FBI interprets its national security mandate as protecting private industry from political criticism."
The FBI's Houston Division ostensibly ended investigation of the Tar Sands Blockade activists for lack of evidence of "extremist activity," yet still maintains a storehouse for intelligence concerning the Keystone XL Pipeline, and has questioned anti-tar sands activists in other states since then.
A connection between the government and private sector is not up for debate — the Domestic Security Alliance Council links DHS, FBI and private industry in a "strategic partnership" which lists as its goal "to advance the Federal Bureau of Investigation's (FBI) mission of preventing, detecting, and deterring criminal acts by facilitating strong, enduring relationships among its private industry members, FBI Headquarters, FBI Field Offices, Department of Homeland Security (DHS) Headquarters and Fusion Centers, and other Federal Government entities. DSAC also advances the U.S. Private Industry's ability to protect its employees, assets, and information by providing ongoing access to security information and to a network of security experts." Though the DSAC had a hand in the OWS infiltration, nothing indicates a connection to this particular story, yet.
But you can interpret that however you choose.
---
This article (How the FBI and Big Oil Team Up to Silence Environmental Activists) is free and open source. You have permission to republish this article under a Creative Commons license with attribution to the author and TheAntiMedia.org. Tune in! The Anti-Media radio show airs Monday through Friday @ 11pm Eastern/8pm Pacific. Help us fix our typos: edits@theantimedia.org.
Since you're here…

…We have a small favor to ask. Fewer and fewer people are seeing Anti-Media articles as social media sites crack down on us, and advertising revenues across the board are quickly declining. However, unlike many news organizations, we haven't put up a paywall because we value open and accessible journalism over profit — but at this point, we're barely even breaking even. Hopefully, you can see why we need to ask for your help. Anti-Media's independent journalism and analysis takes substantial time, resources, and effort to produce, but we do it because we believe in our message and hope you do, too.

If everyone who reads our reporting and finds value in it helps fund it, our future can be much more secure. For as little as $1 and a minute of your time, you can support Anti-Media. Thank you. Click here to support us